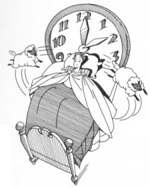 It looks like the scientists at The Depression and Bipolar Support Alliance (DBSA) found out how to cure people's depression… give them a freebie 😉 well, maybe that wasn't on their minds when they decided to give out a free sleeping kit, but hey, it helps!
If you're interested in receiving a free sleeping kit click here to fill in the form. Note that you will find Canadian provinces in the "State" drop down menu.
I was just kidding of course. I strongly believe that depression is a serious disorder. You can find out more about depression here.