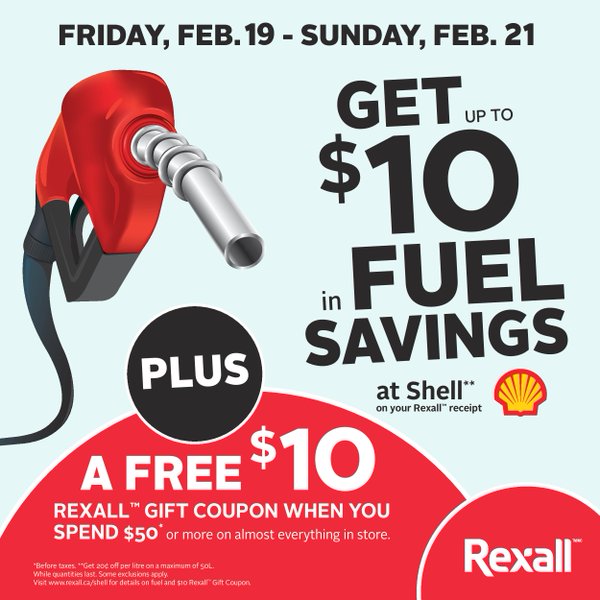 This weekend only, starting today, Friday, February 19 until Sunday, February 21, 2016 you can get some fantastic deals from Rexall PharmaPlus Canada.
Get up to $10 in fuel savings when you show your Rexall receipt at a participating Shell Gasoline station. Receive a 20 cents off per litre fuel savings receipt coupon and a $10 Rexall or Rexall Pharma Plus gift coupon when you spend $50 or more in store.
The fuel savings coupon is valid for use at participating Shell service stations in British Columbia, Alberta, Saskatchewan, Manitoba and Ontario until March 20th, 2016.
Rexall Gift coupons are valid for redemption at participating Rexall or Rexall Pharma Plus locations from today, Friday, February 19 to March 3rd, 2016.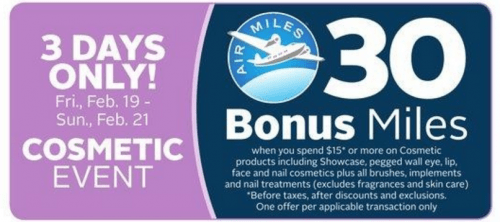 Also, while you're in store, check out Rexall's Cosmetic Event where you can get 30 Bonus air Miles when you spend $15 or more on cosmetic products including Showcase, pegged wall eye, lip, face and nail cosmetics plus all brushes, implements and nail treatments (excludes fragrances and skin care).
Click here to view Rexall Pharmaplus Canada's flyer.