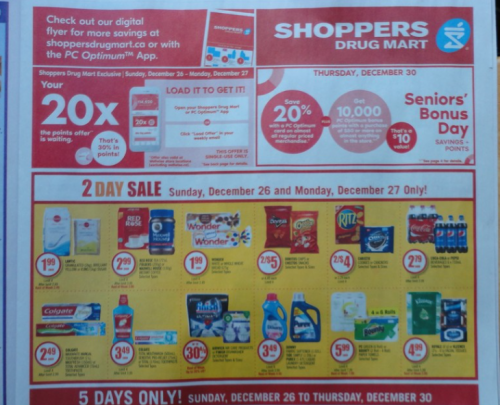 December 26th and 27th Shoppers Drug Mart Canada will have 20x the PC Optimum points in the form of a loadable offer that you will find in your app. You will have to refer to the offer that you personally receive in order to determine the amount that you will need to spend.
This weekend you should have no trouble finding items to purchase for the 20x the points, as most holiday items will be on sale up to 50% off. There is also  two day sale on December 26th and 27th, and here are some of the advertised items:
Lantic Sugar $1.99
Red Rose Tea or Maxwell House Coffee $2.99
Wonder Bread $1.99
Doritos or Cheetos 2/$5
Christie Cookies or Crackers 2/$4
6pk Coke or Pepsi $2.79
Finish or Airwick Products up to 30% off
Downy or Purex $3.49
Bounty Paper Towels $5.99
Kleenex or Royale Facial Tissue 6pk $4.99
Dozen Eggs $2.49
No Name Butter $3.49
Click here to view the flyer on our forum!