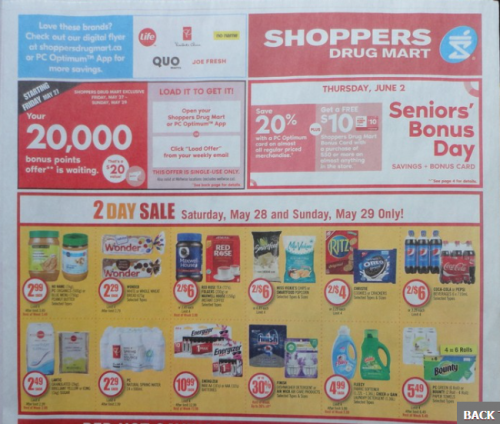 This weekend get 20,000  point at Shoppers Drug Mart Canada when you use the offer that you will have in your app. For most of you the offer should be 20,000 points when you spend $60, but the amount may vary. For some it may be when you spend $75, or higher.
There is a two day sale this week, and here are some of the items you might want to pick up to earn your 20,000 points:
No Name Peanut Butter $2.99
Wonder Bread $2.29
Maxwell House Instant Coffee 2/$6
Red Rose Tea 2/$6
Smart Food or Miss Vickie's 2/$6
Christie Cookies or Crackers 2/$4
Coke or Pepsi 6pk 2/$6
Bounty Paper Towels $5.49
Up to 20% off select Chromebooks or Notebooks
There is also a gift card offer in the coming week. Get 5,000 PC Optimum points for every $50 or more spend on Apple gift cards. It is not for every $50 spent, so if you are purchasing multiples of $50 be sure to do them in separate purchases.
Click here to view the flyer on our forum.