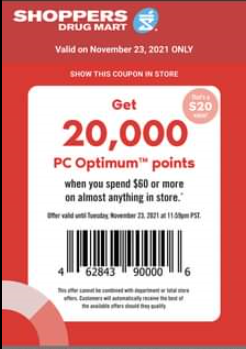 Until the end of today, get 20,000 PC Optimum points at Shoppers Drug Mart Canada with this Tuesday text offer. Today only, spend $60 or more on almost anything in the store and get 20,000 PC Optimum points when you scan this offer.
Some of you will have received this offer today if you are signed up for texts from Shoppers Drug Mart Canada. If you are not registered you may still make use of the offer. All you would have to do is have a screen shot of the offer shown in this post, and scan it at the register in addition to your PC Optimum card. You may use coupons just as you would with any other offer, just make sure as always that your subtotal is the required spend amount before the coupons are applied.
Click here to view the Shoppers Drug Mart Canada flyer for this week.