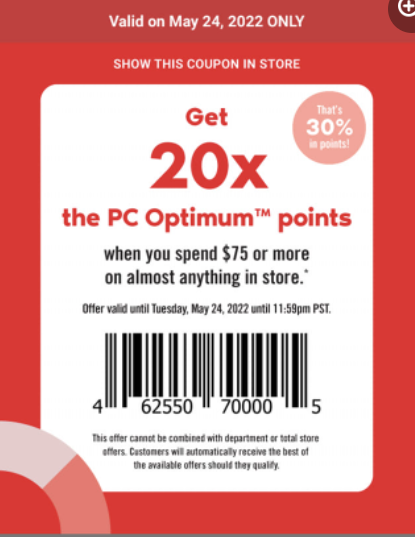 It might not feel like a Tuesday due to yesterday being a holiday, but we are already two days into the work week, and we have a Tuesday text offer for today from Shoppers Drug Mart Canada.
Today only, get 20x the PC Optimum points when you spend $75 or more on nearly anything in the store. To obtain your points, be sure to scan the text that you received early today, or a screenshot of the image above, in addition to your PC Optimum card. You are able to use coupons if you wish, and they can lower the amount that you will have to spend out of pocket. For example, if you have $75 worth of merchandise and $25 worth of coupon, you will pay just $50 but you will still receive 20x the points on $75.
If you check your account you might also find that you have a buy one get one free hair care offer valid for today that you could incorporate into a 20x the points shop.
Click here to view the Shoppers Drug Mart Canada flyer for this week.