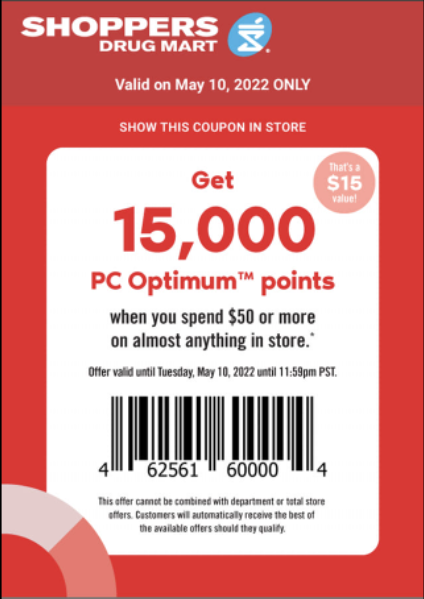 Today only at Shoppers Drug Mart Canada, get 15,000 PC Optimum points when you spend $50 or more on nearly anything in the store using today's text offer. Each Tuesday an offer is sent out by text to those subscribed, valid for one day only. Anyone can use this offer though, so if you did not receive it earlier today, you can scan this image at this cash.
Like any other offer from Shoppers Drug Mart, you are able to use coupons to pay less and still get your points. Just ensure that  when all products are scanned that the subtotal before tax is $50. Sometimes products ring up less than the shelf price, and you need to make sure you have hit $50. If you have much more to spend than $50, you would be better off waiting for a 20x the points event so that you earn points for your entire purchase.
Click here to view the Shoppers Drug Mart Canada flyer for this week.