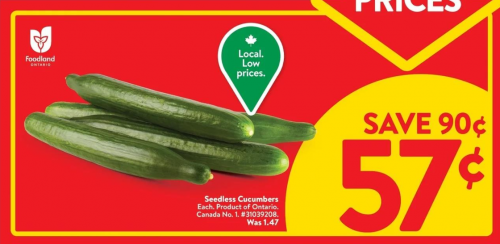 Walmart Canada has seedless cucumbers for a very low price of 57 cents this week, and you can get one of them for just 32 cents using a cash back offer!
If you don't already have the Eclipsa app you will need to install it first. In the list of offers for this week you will find one for 25 cents cash back when you purchase any cucumber. Buy a cucumber for 57 cents from Walmart Canada and then upload your receipt to claim your 25 cents.  You will need to accumulate $20 before you are able to cash out of Eclipsa, but offers are not brand specific, and there are common items you might purchase each week.
There is also an offer of 25 cents cash back for the purchase of any strawberries this week. No Frills has the 1lb clamshells or strawberries for $1.88 until Wednesday, and you can claim 25 cents for those as well.
Click here to view the Walmart Canada flyer for this week.