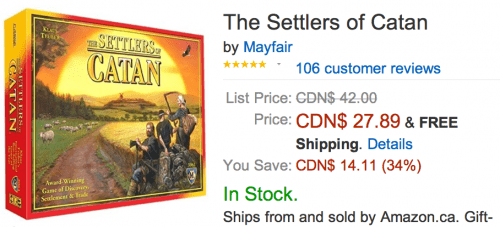 Amazon Canada has a great deal on where you can save 34% on The Settlers of Catan originally $42 on sale for $27.89 with free shipping! This game, meant for 3 to 4 players is one of the most successful games of all time. Basically, it's a trading and building game set in the mythical world named Catan. Players roll the dice to determine which resources are available each round and then must strategically trade those resources with other players to get what they need to build their settlements, cities, and roads. The best part is that there are many different ways to win and gain points that make every game fun and exciting. It's easy to learn and comes with a full colour rules book. 
Out of 106 ratings, this game was rated 4.8/5 stars! One reviewer noted, "what I love about this game is that it's engaging all the time. not your typical roll the dice move the mice game. you have to pay attention every time the die is rolled to it's intellectually stimulating and requires strategy".
Offer's expiry date is not indicated. Free shipping is offered on orders over $25, which means this item will be shipped for free.
Click here to get the Catan game at Amazon Canada
Also,