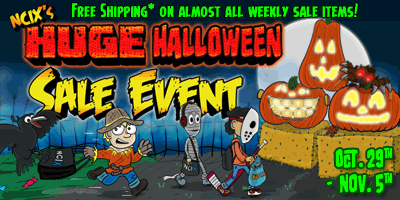 NCIX Canada is having their Halloween Sale!
You can currently shop at NCIX Canada Online and get huge discounts on computers and electronics from now until November 5th, 2014.
Some of the Halloween Sales and Deals at NCIX Canada include:
ASUS RT Router $119.99
WD Western Digital My Book 4 TB $149.99 (was $229.99)
ADATA 64 GB USB 3.0 Flash Drive $29.99
WD Western Digital 1TB Elements Portable USB3 Hard Drive $69.99
WD Western Digital 2TB Elements Portable USB3 Hard Drive $109.49
Rii Wireless Min Qwerty Keyboard Touch Pad PS3 and IR Home Appliance Remote Control $39.99
and more!
You will also enjoy FREE Standard Shipping on most of these weekly sales items from NCIX Canada online. The conditions for the free shipping is that the items must be a part of this Huge Halloween Sale Event and your order must exceed $50 but not weigh over 200 pounds!