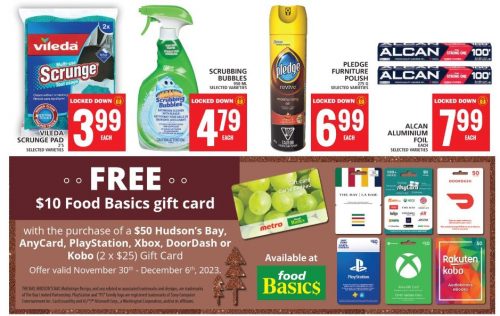 Food Basics Ontario has a new gift card offer that starts tomorrow, November the 30th. Purchase a $50 Hudson's Baby, AnyCard, PlayStation, Xbox, DoorDash, or Kobo (2x$25) gift card, and you will receive a free $10 Food Basics gift card. If you are purchasing multiples of $50 gift cards, make sure that you are doing separate transactions so that you get the $10 Food Basics card each time. If you're heading to Food Basics for this offer, here are some of the other deals that start tomorrow:
Cantaloupe or Bag of Avocados $1.88
Butterball Whole Turkey $1.88/lb
Extra Lean Ground Beef $4.28/lb
Selection Butter $4.88
Astro or Iogo Yogurt Tubs $2.88
Selection Italian Bread $1.99 (Digital Deal of the Week)
Danone Two Good Greek Yogurt Tubs $4.99
Selection Sour Cream $2.49
Olympic Organic Yogurt $4.49
Astro Original Yogurt 12pk $3.99
Siggi's Yogurt $4.99
Seedless Cucumbers or 2lbs Yellow Onions .88
Irresistibles Frozen Fruit $4.44
Click here for the Food Basics Ontario flyer valid November the 30th to the 6th of December.