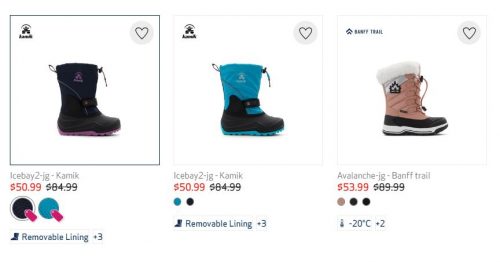 GLOBO Shoes Canada has a flash sale on winter boots for kids happening now. For a limited time you can save 40% off the regular price of kids' winter boots. You can also get 25% off Banff winter boots for men and women. Shipping is free from GLOBO shoes on orders of $99 or more, and here are some of the sale prices on the kids' winter boots:
Kamik IceBay2 $50.99 (reg. $84.99)
Banff Trail Avalanche $53.99 (reg. $89.99)
Banff Trail Hot Coco $35.99 (reg. $59.99)
Banff Trail Bonfire $53.99 (reg. $89.99)
Cougar Triumph $65.99 (reg. $109.99)
Kamik Snobustr 1 $35.99 (reg. $59.99)
Kamik Sleighbl3 $32.99 (reg. $54.99)
Bullboxer Kruisin $41.99 (reg. $69.99)
Most of these styles come in a variety of colours, and some have features like removable liners. Flash sale prices cannot be combined with any other offer, and are valid until December the 6th. The sale on the Banff Trail men's and women's boots at 25% off does not have an end date, but be sure to order by December the 19th for delivery by Christmas.
Click here to shop these offers at GLOBO Canada.