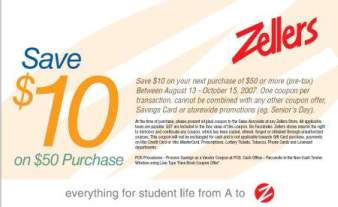 Use this coupon between August 13-October 15th and receive $10 off any purchase of $50 or more at Zellers. This will be great for buying all the back to school supplies since Zellers tends to have some good sales on necessities like paper, pens etc!
Thanks to crazyindark for posting the link with these four great coupons (Zellers, Empire Theatre, Best Buy and Roots) on the fourm! Your contribution is greatly appreciated and hopefully lots of Smart Canucks can benefit from these offers 🙂
Click here for the coupon in pdf format.
(note the pdf file contains the Roots, Best Buy, Empire Theatre and Zeller's coupons, print them all or only the pages you need!)