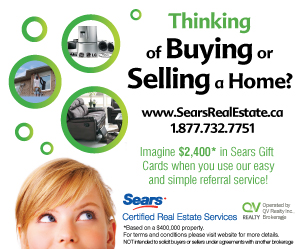 There is a great home buying/selling program from Sears Certified Real Estate services that rewards you with thousands of dollars in Sears gift cards!
I don't know about anyone else but I am assuming that if you are on SmartCanucks, you're just like me….a deal hunter. When I buy things at a store I always use my coupons, points cards, reward miles etc.
This service follows the same principle.
You are rewarded with 0.6% of your buying/selling price in Sears gift cards just for using their free,simple and easy referring brokerage service!
Now that may not sound like a large amount BUT think about it this way:
Your home sells for $200,000…so you would receive $1200 back in GC's to help spruce up your new place.
Better yet, it works both ways whether you are buying OR selling.
Plus when you enrol in the program, you will get a Coupon Saving Booklet that contains additional discounts for Sears products and services (eg. Additional 10% off of all Kenmore Appliances, on top of existing sale prices)
Here's how it works:
Firstly and most importantly, you need to get in contact with them either via the website  http://www.searsrealestate.ca/en/home or by calling 1-877-Sears-51.
They then set you up with a quality Realtor in your area. Currently they service most major cities in Southern Ontario, from Windsor to Ottawa.
Your realtor will help you with all aspects of searching for a home, buying and/or selling.
Now if this all sounds too easy, well…. that's because it is.
Saving money makes sense to me!