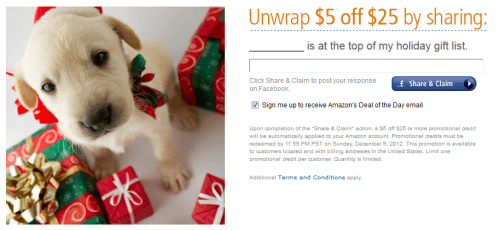 Amazon.com are offering a $5 discount on a purchase of $25 or more on items shipped by them when you connect with them on Facebook.  This does state US addresses only but a friend used it and I checked and with my Canadian address, the discount was still applied, you will just have to pay international shipping.  If you were ordering something from amazon.com who do have a much better selection, the discount helps with the shipping costs by bringing down the item cost.

Expires 11:59 PM PST on Sunday, December 9, 2012.  Excludes Kindle devices, digital downloads and gift card purchases.One offer per person and Amazon account.
Click here and fill in the box with your most wanted gift then click Share & Claim to take advantage.