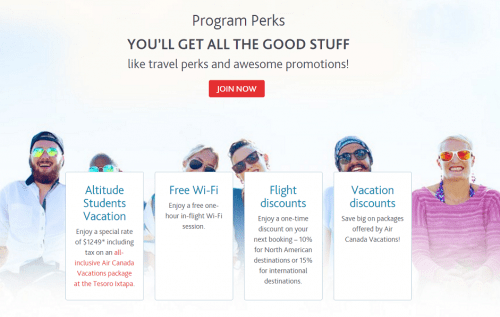 Air Canada has recently introduced a great program that will help Post-Secondary students save on travel expenses. Students can sign up to join Air Canada's Altitude Students Program and save up to 15% off flights and more!
Perks of joining the Air Canada Altitude Students Program include:
10% Off North American Flights (one time only)
15% Off International Flights (one time only)
Special Rates on Vacation Packages
FREE In-flight WiFi for 1 hour
In addition to this, you can also receive free cafe goodies, and enter exclusive contests! Another cool perk is that you can pay your tuition with your AeroPlan points! It's a great deal if you're a frequent traveller who's collected a lot of points and would rather use them towards your education than your next trip.
Enrolling in the Air Canada's Altitude Students Program is free. To join, you must:
Be enrolled in a post-secondary institution

the site will also ask you to upload a picture of your student card

Be an AeroPlan member

If you aren't already a member it will ask you to sign up while enrolling in the program

Provide your information such as email, phone number, and mailing address
If you sign up before November 6, 2015 you'll be entered to win a variety of cool prizes, so you may want to sign up sooner than later! When signing up, you'll be a member from the date you register until July 31, 2016. If you're enrolled in school past that date, be sure to head back to the website and sign up again. This is a pretty cool deal for students who are looking to see the world between studying, and you can get some pretty good savings on your next flight with Air Canada as well!
Click here to learn more about the Air Canadas Altitude Students Program.