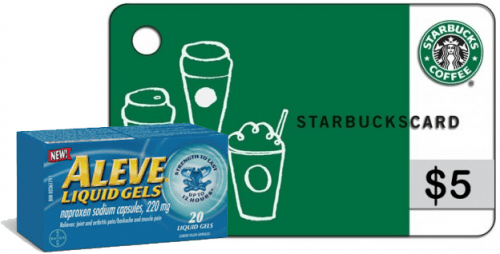 Aleve is on sale for $4.28 for a 20 count pack at Target this week.  If you do not live near a Target or the shelves at your local one are already empty, you can also find the 20 pack Aleve for $5.99 at Shoppers Drug Mart this week.
Use this $2 printable coupon to save while buying the Aleve and pay $4 or less before tax.  Then print this mail in rebate and get a $5 Starbucks gift card by mail.  Both the rebate forms and coupons have been found in stores if you do not have a printer.
Even after tax, you would be getting the Aleve for free after the gift card offer.  Thanks for letting us know about the great price at Target Cake.