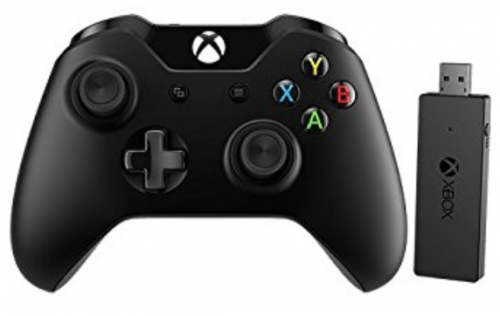 If you're a PC gamer who's been waiting for an official wireless PC compatible Xbox One remote, the wait is nearly over! Amazon Canada currently has a deal online that will save you 44% off your pre-order of a Microsoft Xbox One Controller + Wireless Adapter for Windows 10! This wireless remote and adapter combo is regularly priced at $89.95, but you can pre-order it on Amazon now for $49.95! This is $10 cheaper than the Microsoft Store, which is offering the remote and adapter combo for $59.95. Even if you do not need the adapter, this is a pretty good deal on the remote itself, as official wireless Xbox remotes normally sell for around $64.95 at stores like Best Buy.

This remote works wirelessly with Windows 10 PCs, laptops, tablets and the Xbox One console. The remote also features a redesigned D-pad which provides greater precision and is responsive to both sweeping and directional movements. The adapter also makes the remote compatible with Windows 10 on your PC. Unfortunately, this adapter doesn't seem to be directly compatible with Windows 7 and 8 operating systems, so those of us who haven't updated yet, may be out of luck for now.
This offer is available for a limited time only. This product is released on October 20, 2015. You can enjoy free shipping on this item from Amazon Canada.
Click here to purchase the Microsoft Xbox One Controller + Wireless Adapter for Windows 10 from Amazon Canada.