Amazon Canada has awesome deals available now! The Amazon Canada deals include: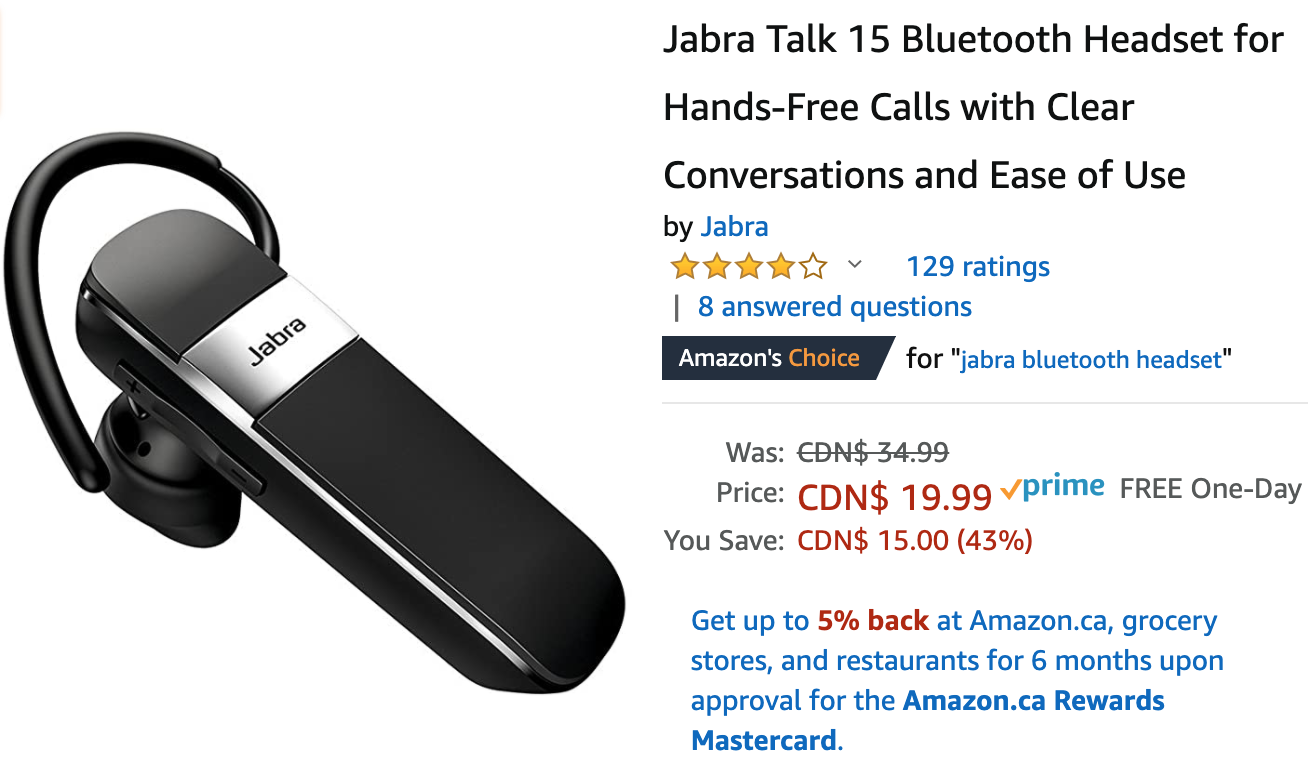 Get Jabra Talk 15 Bluetooth Headset for Hands-Free Calls, for $19.99, Save 43% off
Get 2020 14″ Laptop Thin and Light Notebook, for $259.99, Save 26% off
Get ALLPOWERS Power Bank 24000mAh External Battery with 2 Input & Output, for $15.99, Save 11% off
Get ALLPOWERS USB C Power Bank 25000mAh Portable Charger with 2 Input & 2 Output, for $15.99, Save 20% off
Get Blood pressure machine by LotFancy, for $37.25
Get HOMCA Digital Medical Thermometer, for $13.50, Save 64% off
Get LEVOIT 4L Cool Mist Humidifier, for $59.49, Save 34% off
Get Under Armour Women's Midi Backpack, for $15.93
Get EatSmar, for $9.99, Save 30% off
Get 4-Inch Swivel Plate Caster, Rubber Wheel with Brake, 250-lb Load Capacity, for $13.52, Save 49% off
Get JoaSinc Soap Dispenser Wall Mounted 350ML, for $19.99, Save 31% off
Get Anpro Potato Ricer and Masher, for $12.99, Save 57% off
Get Cat Litter Mat Litter Trapping Mat, for $15.99, Save 33% off
Get Zoe Zoë Dog Grain Free – Beef with Peas & Pumpkin Recipe – (4.lbs), 2 Kg 1 Count, for $8.99, Save 50% off
Get Weiman Cook Top Scrubbing Pads, for $2.77, Save 62% off
Get Vastar Drain Snake Hair Catcher, 4 in 1 Drain Cleaner, for $9.89, Save 18% off
Get TeeHee Men's and Women's Fashion No Show/Low cut Fun Socks Great Value Pack, for $12.74, Save 15% off
Some of the above deals are "Lightning Deals" so they're available for a few hours only!
Amazon won't keep this deal for long since it's such a good price! The price will probably go back up soon so hurry up if you're interested in buying it!
These Amazon deals are available today, while supplies last. Amazon offers FREE shipping on orders over $35.
Click here to view all Deals at Amazon Canada