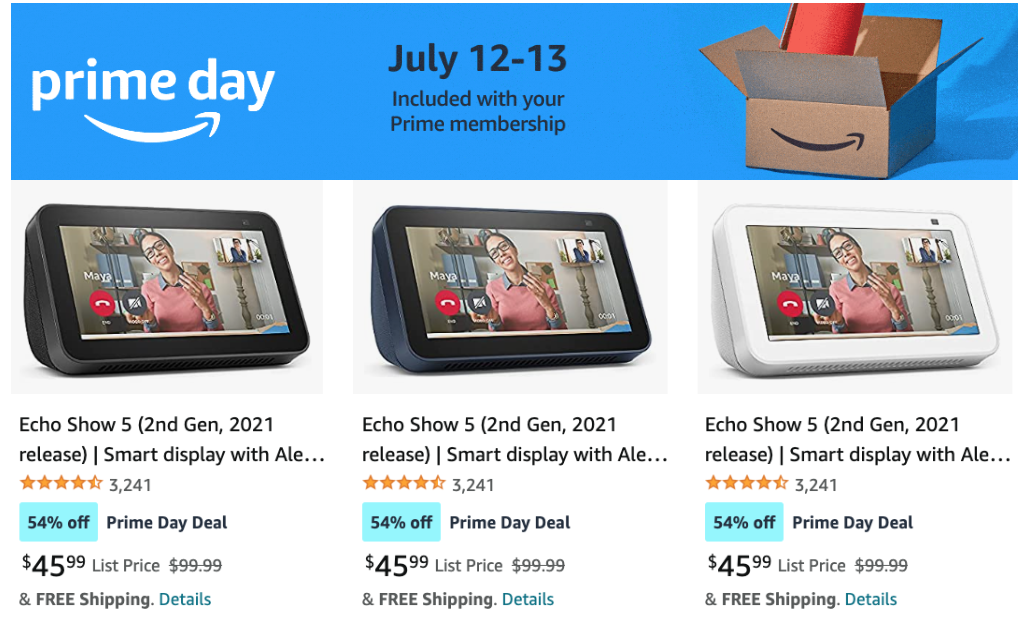 Amazon Canada has great Prime Day Deals & Sale, LIVE NOW, where you can Save up to 70% on Amazon Deals, and more.
Amazon Prime Day ends today July 13, 2022, at 11:59 pm ET. Exclusively for Prime members.
Prime Day is your chance to save really really big on numerous items. When it comes to incredible deals on amazing products, Prime Day 2022 delivers in a big way with more deals than any Prime Day event before.
Save up to 54% off Echo Show Devices
Up to 37% off Ring Doorbells
54% off Echo Dot (3rd Gen)
Up to 40% off Sunbeam heating pads and humidifiers
Up to 37% off on LINENWALAS Pillowcases and Bed Sheets
43% off Furbo Dog Camera: Treat Tossing, Full HD WiFi Pet Camera
Up to $400 off Samsung TVs and soundbars
48% off Save on 23andMe Health + Ancestry Kit and Membership Bundle
Up to 45% off on Sports Research Vitamins and Supplements
Up to 30% off on SAXX Men's Underwear
Up to 30% off Kitchen appliance favourites
Up to 30% off on Soundcore Headphones
Up to 28% off Kid's & Baby's Clothing from Our Brands
Up to 20% off Top Fashion Brand Savings
Up to 35% off Drives and memory
Up to 34% off Select Bose Headphones and Speakers
Up to $386 off Garmin smartwatches, GPS navigation and products
Up to $170 off iRobot Roombas and robotic vacuums
Up to 39% off on Philips Sonicare Electric Toothbrushes and Power Flosser
Up to $384 off ASUS Laptops
Up to $227 off Monitors from Samsung
Up to $350 off TCL Televisions
Up to $537 off Samsung Galaxy phones, smartwatches and earbuds
Up to $315 off DJI Mini 2 drone and Action 2 camera
Up to 36% off Fitbit smartwatch products
Up to 30% off Hills favorites
Up to 50% off Oral-B Toothbrushes and Crest Whitestrips
Up to 30% off Ray-Ban & Oakley Eyewear
Up to 24% off Baby Essentials by Huggies, Pampers, Water Wipes and more
6% off on Airpods Wired
Up to 42% off on Lefant Robot Vacuums
20% off YETI Rambler Stainless Drinkware
Up to $152 off on eufy Security Cameras and Video Doorbells
Up to 42% off on Garden Hoses
Up to 41% off on Spikeball Sets and Accessories
Up to 31% off Sony headphones and speakers
Up to 29% off on MANSCAPED Shaving Products
Up to 32% off on Aftershokz Wireless Sport Headphones
Click here to view more Deals at Amazon Canada.
Amazon won't keep this deal for long since it's such a good price! The price will probably go back up soon so hurry up if you're interested in buying it!
Amazon offers FREE shipping for all Prime members or FREE shipping on orders over $35.
Click here to view more Deals at Amazon Canada.