Ever wonder what happens to returned items at Amazon?  Along with damaged packaging, they are sold as Amazon Warehouse Deals once they are hand checked to confirm they are working and include all the necessary pieces.  Used products generally do not come with a manufacturer's warranty but Amazon guarantees them with their return policy and you can purchase a warranty from Square Trade to cover certain items.
Since Amazon Warehouse Deals are often valid for only a single item that will sell quickly, I won't list individual deals as they sell out quickly and may be listed on more than one page as they will have items in different condition.  To check the condition, look at the right side of the page by the add to cart button where they list why the product is a warehouse deal and the condition of the products.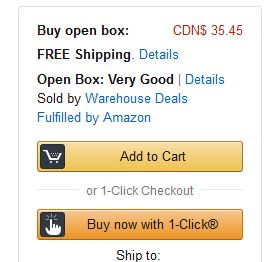 Click here to see all Amazon Warehouse Deals and look for the blue Prime Day banner to save an extra 25% on your purchase.  Many of the items I checked without the blue banner (such as the Pampers Diapers deal) are also eligible, so worth checking to confirm if you are interested in a product that does not show the banner.
While the lower prices shown are valid for all members, if you want the additional 25% savings, you will have to be an Amazon Prime member and can sign up for a free trial.  Click here to see all Amazon Warehouse Deals.
Click here to get Amazon Prime Deals Of The Day.