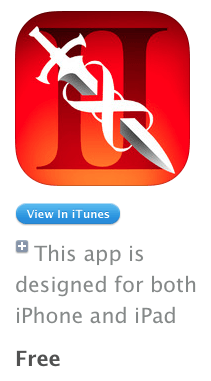 Apple Canada is currently offering the Infinity Blade 2 game for your iPhone or iPad for free on iOS! This game is Chair Entertainment Group's award-winning iOS blockbuster. It comes with bonus content including ClashMob, Vault of Tears, and Sky Cages expansion packs! It's rated 12+ because of its suggestive themes, frequent fantasy violence, and infrequent realistic violence.
Out of 4717 ratings, this version received an average of 4/5 stars on Apple.com.

Offer's expiry date is unknown. This game is available in English, Chinese, Czech, Dutch, French, German, Hungarian, Italian, Japanese, Korean, Polish, Portuguese, Russian, Slovak, Spanish, and Swedish.
Click here to download the Infinity Blade 2 Game for FREE on Apple iTunes Canada