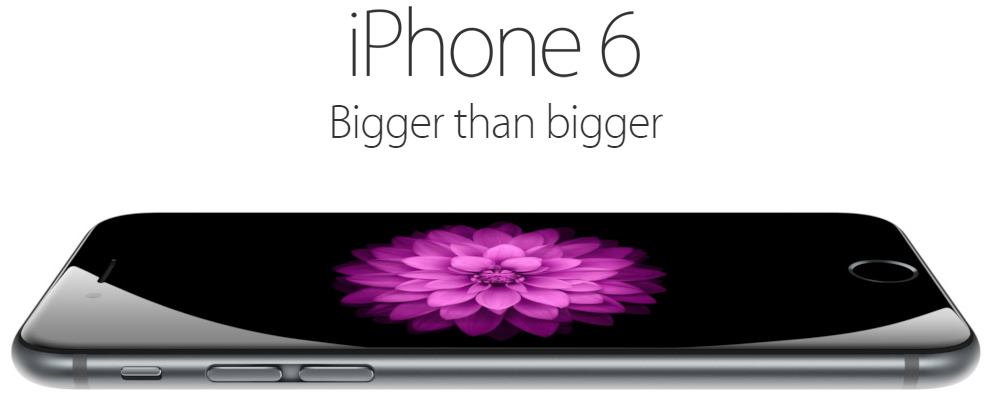 As you are probably aware, Apple  has announced the official release of their iPhone 6 and iPhone 6 Plus in Canada and the world. Can you believe that this is already the eighth generation of the much loved iPhone?
The iPhone 6 will come in two different versions (Canada and globally) – the iPhone 6 and the iPhone 6 Plus. There has also been a  release of the new Apple Watch – cool huh? But what makes the iPhone stand out amongst its main competitors, the HTC One M8, the Samsung Galaxy S5 and Google Nexus 5? The iPhone 6 and iPhone 6 Plus are "Bigger than Bigger", a cheesy quote that Apple came up with to market the iPhone 6. But don't let the cheesiness deter you, because the new iPhone 6 is indeed HUGE. The iPhone 6 towers over the iPhone 5 with a 4.7″ display rather than a 4″ display and the iPhone 6 Plus is so much larger! 5.5″ Display! I personally would not want a phone as big as the plus, my iPhone 5 is just perfect. Here is a comparison diagram of the different iPhone. From left to right: iPhone 6 Plus, iPhone 6, iPhone 5s, iPhone 5c: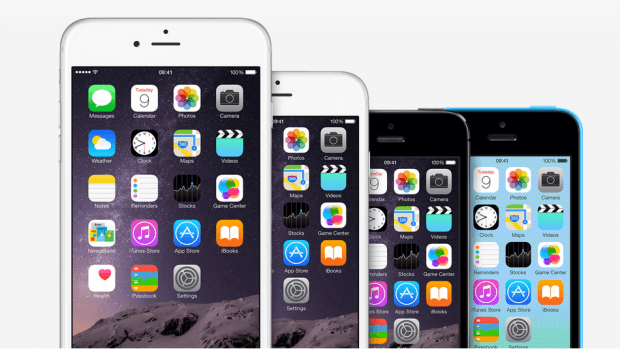 The new iPhone 6 is not just bigger though – it is also thinner. It has more power than the last iPhone and a slightly higher battery life. The battery life is actually the only complaint I have with my iPhone 5 so I hope this issue has been addressed with the new phones. Another improvement in iPhone 6 (and particularly the plus) is the Retina HD display, which means that every square inch of your screen now carries more pixels and hence results in a smoother and higher quality image.
The Apple iPhone 6 and iPhone 6 Plus comes in three colours in Canada and globally:
Silver (and a white front)
Gold (and a white front)
Space Grey (and a black front)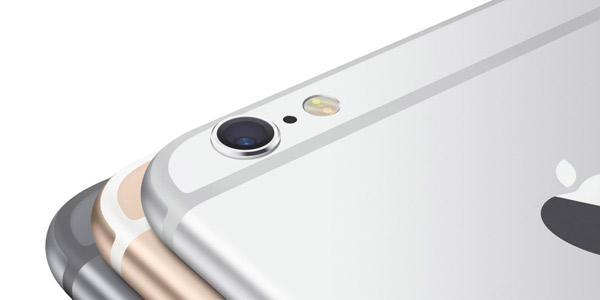 While the rear camera on the iPhone 6 is still only 8MP, it has improved since the iPhone 5S! It now has new lenses like the wide angle iSight lens, true tone flash, f/2.2 aperture, greater noise reduction and of course the autofocus in much faster so you end up with better pictures altogether.
I could go on and on about the new Apple iPhone 6, but why not watch a review on the product so I can move onto more important things – like prices! Click here to watch the Apple iPhone 6 review.
When Can I order iPhone 6 in Canada?
The iPhone 6 and iPhone 6 Plus will officially be released on September 19th in Apple Stores all across Canada but Canadians can start to pre-order them from September 12th online at 12:01AM Pacific Time (3am EST). They will run out QUICKLY online (within a couple of hours at most) so make sure you're awake and ready, your credit card is active and as soon as ordering is enabled quickly go through the ordering process. As for in-store orders on the 19th, I suggest you visit an Apple Canada store by 6am or even earlier and avoid busy malls like Toronto's Eaton Centre.  You can also grab a LOCKED (I do not recommend that) version of iPhone 6 & 6 Plus from most Canadian carriers such as Rogers, Bell, Telus, MTS, Sasktel, Fido and more.
How much is the iPhone 6 in Canada?
Apple iPhone 6 Pricing in Canada:
iPhone 6 16GB – $749+tax
iPhone 6 64GB – $859+tax
iPhone 6 128GB – $969+tax
Apple iPhone 6 Plus Pricing in Canada:
iPhone 6 Plus 16GB – $850+tax
iPhone 6 Plus 64GB – $969+tax
iPhone 6 Plus 128GB – $1079+tax
If you love loading your iPhone with music, taking thousands of pics or downloading many apps I very very strongly discourage you from getting the 16GB version. It will get full very quickly and you will have a bad experience deleting and reloading stuff on your iPhone constantly. The addition $120 for the 64GB version is well worth it.
These prices also mean that the prices of the iPhone 5S and iPhone 5c in Canada have decreased! The 8GB iPhone 5c will now sell for only $469 and the iPhone 5s 16GB will only be $639 and the 32GB will only be $699.
Are you going to be purchasing an iPhone 6 or iPhone 6 Plus? And if so, which version, colour and size will you buy?
 Click here to check out the Apple iPhone 6 from the Apple Store Canada Online