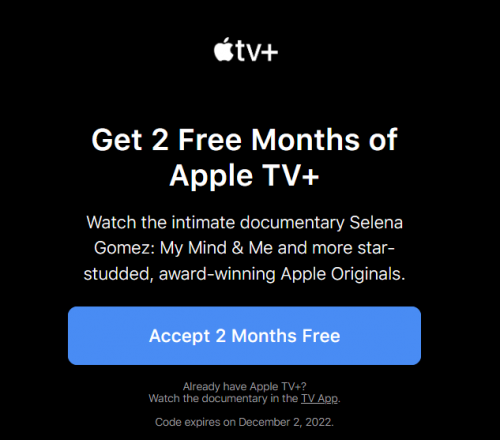 You can currently get two free months of Apple TV+ when you visit the link below and click "Accept 2 Months Free." The code expires on December the 2nd, 2022, so be sure to redeem it before that date for your two free months.
The code is valid for new subscribers and returning subscribers that qualify. You must have an Apple ID with a payment method on file in order to get the two free months as well. You will have to cancel before the promotion ends if you don't wish to be billed monthly afterward. You are able to cancel immediately after redeeming the code, and then you won't have to worry about it at the end of the two months. If you choose to wait and cancel later on, you will have to cancel at least one full day prior to the end of the promotion in order to avoid being billed $8.99 for the following month.
Click here to get two free months of Apple TV+.