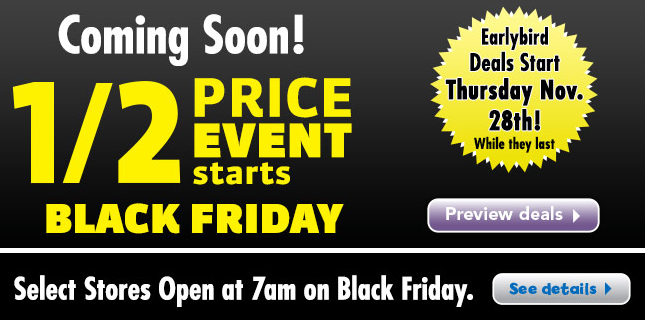 Shop Canadian Black Friday 2013 at Babies R Us! Some Earlybird Deals start Thursday November 28th while they last. The main event you won't want to miss is the Half Price Event that starts Black Friday November 29th, 2013 at Babies R Us. This is a fabulous way to save money while completing your Christmas shopping. Select stores open at 7am on Black Friday.
Some of the items that are included in the half price event are:
Fisher-Price – Little People – Lil' Movers School Bus (1/2 Price Event) -$15.99
25% Off All Oball Toys
Munchin Wood & Steel Designer Gate (1/2 Price Event) – $34.97
Disney Cars Nap Mat (1/2 Price Event) – $12.47
Baby Bjorn Potty Chair (1/2 Price Event)- $22.47
The Babies R Us Flyer displays some of the best selling items in the Black Friday Half Price event.
You can preview Babies R Us Canada Black Friday Half Price Event here.