While I was surfing the Internet for some healthy things to pack in my children's lunches for school I stumbled upon some pretty neat ideas for snacks that are not only nutritious but fun to look at.  I can only imagine they'd be just as fun to eat.  I thought I would share a few of these ideas with you in hopes that maybe you might be able to use them as well.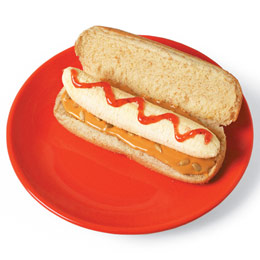 This is a Banana Dog and when I first saw it I was a little hesitant as to who would eat it.  I then thought of  how many people enjoy peanut butter and bananas on sandwiches already and thought this might be something my 4 year old would enjoy.
Ingredient list:
Whole grain hot dog bun, peanut butter (or P.B. alternative), wheat germ or sun flower seeds (optional), banana and jam
Spread a hot dog bun with peanut butter (or alternate) , sprinkle with wheat germ or sunflower seeds and top with a whole peeled banana.  Add a little bit of jam for that ketchup look and you have a nice healthy snack/lunch idea for your kids lunch box.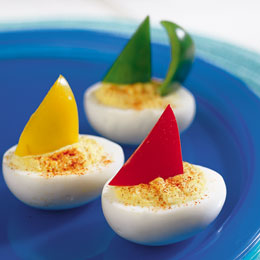 I thought that these were just too cool to not mention.  These devilled egg boats would make a great snack for the lunch box or for after school when your kids need a little pick me up.  Our children already really like devilled eggs so this fun adaptation will be a nice change for them.
Ingredient list:
12 hard boiled eggs, 2 tsp of dijon mustard, 2 tsp. of vinegar (white or cider), 1/4 to 1/2 cup mayonnaise, 2 red, orange, yellow or green bell peppers and paprika.
Peel the eggs (once they have been hard boiled) and slice them in half to make the boats.  Scoop out the yolks into a bowl and mash them up.  Add the mustard vinegar and mayonnaise stirring until its smooth but not soupy.
To make the sails cut each pepper into 1 inch strips.  Then cut the strips into 1 inch squares and cut each square diagonally to get your sails.
Fill the egg white halves with the egg mixture, stick the sail in upright, sprinkle with some paprika and you have your little boat snack ready to be enjoyed.
These were just 2 of my favourite snack ideas from familyfun.go.com. Follow the link for more fun and tasty snack and lunch ideas that are sure to please even the pickiest eater.
If you have any ideas you'd like to share we'd love to hear them!