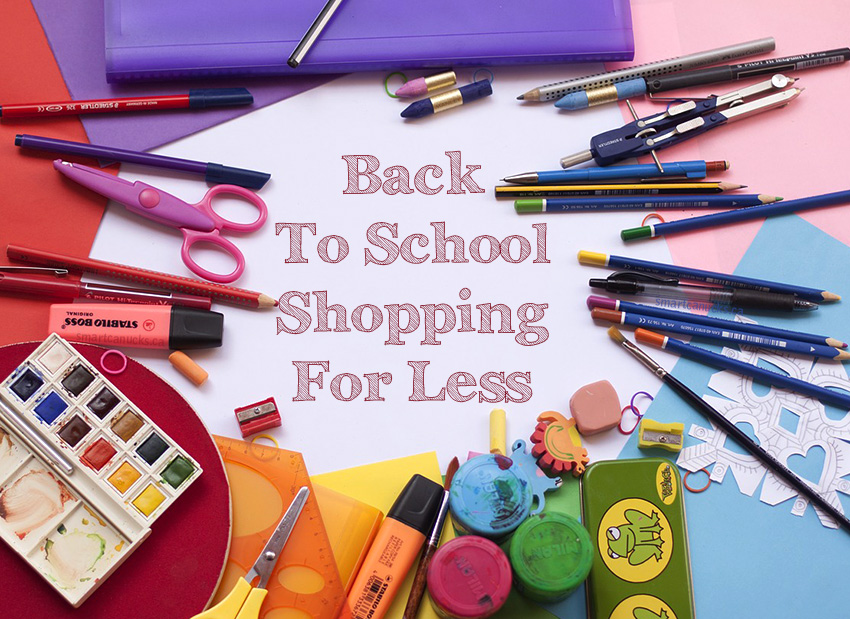 Not to wish your summer away, but starting to buy now can help you finish that back to school shopping list for less.  Here are some of the cheaper deals this week that you may want to pick up and make a dent in those crazy lists schools are sending home.
Giant Tiger: 80 page lined notebooks are only $0.15 and worth picking up even just for household notes.  They also have 24-packs of Crayola coloured pencils with a pencil sharpener for $2.29.  Don't forget that Giant Tiger deals end on Tuesday nights!
Staples Canada: Obviously an office supply store can be one stop shopping for those back to school lists and Staples have a number of deals worth picking up this week:
1″ binders $0.96
Hilroy 32 page exercise books $0.60
Crayola 24pk crayons $0.96
150 sheets refill paper (lined) $0.75
Shatterproof rulers $1
BIC Wite Out $1 (cheaper than Dollarama)
Walmart Canada: with dedicate back to school sections and local school supply lists on hand, Walmart is also one stop shopping.  But not all deals are good ones.  Here are the cheaper items this week
20-pack writing pencils $0.97
BIC 10-pack pens $0.97
Sharpie 4-pack highlighters $1.77
Crayola 64-pack crayons $1.97
Crayola 100 page construction paper $1.97
It may not be the first place you think to look, but Real Canadian Superstore has some deals on back to school supplies.  Not as hot as some Walmart prices but may be worth it if you earn PC Plus points on a minimum purchase.  View the flyers for these deals here.