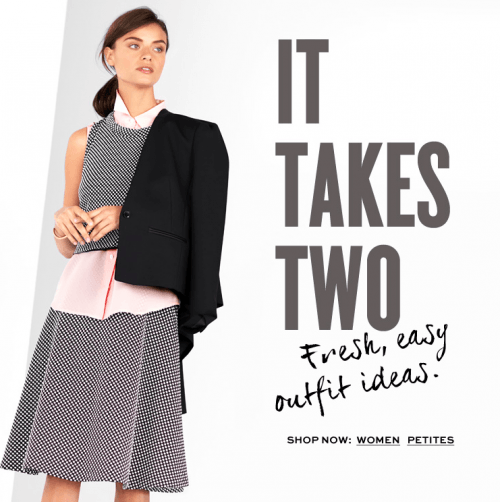 Banana Republic Canada is offering a short – but sweet – promo code today until midnight EST where you will have the chance to save an extra 30% off, should you spend $200 or more, or up to 35% off, should you spend $250 or more. The code for both of these extra discounts to be applied is the same, making your life easier, and the code is, BRGETMORE.

Since the amount that you'll have to spend to qualify for this promo code from Banana Republic is a lot higher than their usual deals, this would probably be a good deal for those of you who looking to splurge on an bigger ticket item (be it for an event or simply just a sought after piece from the new spring collection). I was pursuing through the new spring dresses and jumpsuits, as Banana Republic always has a beautiful collection of these for each season, and was able to find this trendy spaghetti strap drapey jumpsuit for just $150.
Upfront, the initial cost of a jumpsuit for $150 does seem like quite a lot, but the thing about jumpsuits is their much more versatile then a dress as they can be paired with jackets and heels to either dress them up or down, depending on the occasion and the setting. Especially if you were to layer your jumpsuit with a long-sleeve tee, either brightly patterned or plain black/white, you could dress it down for a more casual office look (that simultaneously keeps you a little warmer). This Striped Ruched Tee would be an excellent companion for achieving such a look, and since the tee is $56, you could purchase it with the jumpsuit to bring your total order down to $144.20 (instead of the original cost of $206).
Banana Republic also offers free-shipping on all orders that exceed $50, so if you're qualifying for this promo code then you will already clear the minimum payment for free-shipping.
Click here to begin shopping at Banana Republic Canada online.