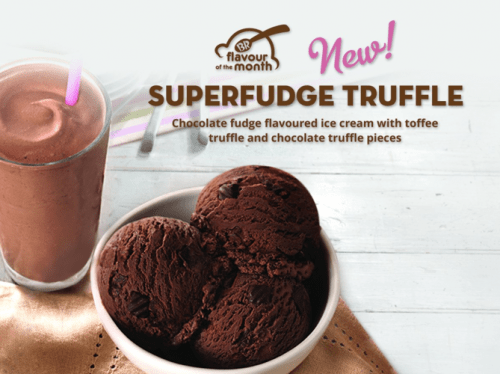 Until the end of the month, January 31, Baskin Robbins Canada will be offering two exclusive new year, new flavour promotional coupons. You will be limited to one coupon per purchase.
Baskin Robbins Canada January, 2017 coupons include:
Buy one get one 50% off superfudge truffle. Single 4oz scoop in a cup or cone. This is the new flavour of the month.
Buy one get one 50% off warm cookie ice cream sandwich. In a cup or cone.
These coupons are valid at participating Canada Baskin Robbins locations until Tuesday, January 31, 2017. You must present your printed coupon when ordering. Limit one coupon per customer per visit. No substitutions allowed. May not be combined with any other coupon, discount or promotion.

Also, Baskin Robbins Canada has another cool deal helping you to save 31% off Pre-Packs! Every 31st from January to December, 2017 you can go to your local Baskin Robbins Canada and save 31% off pre-packs!
Try some pre-pack flavours including Jamoca Almond Fudge, Peanut Butter 'n Chocolate, Gold Medal Ribbon, Cookies 'n Cream, Mint Chocolate Chip, Chocolate, Chocolate Mousse Royale, Rainbow Sherbet, Vanilla, Chocolate Chip.
Click here to print your Baskin Robbins Canada coupons.
Click here to find a Baskin Robbins Canada near you.