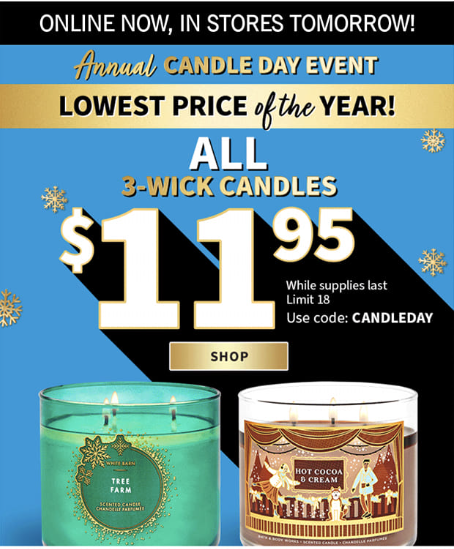 You've had some time to get your cart ready, and the Bath & Body Works Canada Candle Day Event is now live online. I'm not sure what the online price was in previous years, but this year all three-wick candles are $11.95. This is the lowest price of the year and the best time to do your Christmas candle shopping and stock up on your favourites.
You do require a code to get this offer, which means you cannot use the sign up code for free shipping and 20% off. Use the code CANDLEDAY at checkout to get the discounted price on up to 18 candles. This offer is valid online until December the 4th at 5:59am. It looks like you will have to pay the flat rate shipping cost of $9.99 if shopping online, but this might be more than worth it to avoid going to the store, which is often chaos, complete with long line-ups.
Speaking of shopping in-store, most locations will be opening early tomorrow morning for Candle Day. Check the store locator for details.
Click here to shop three-wick candles for $11.95 at Bath & Body Works Canada.