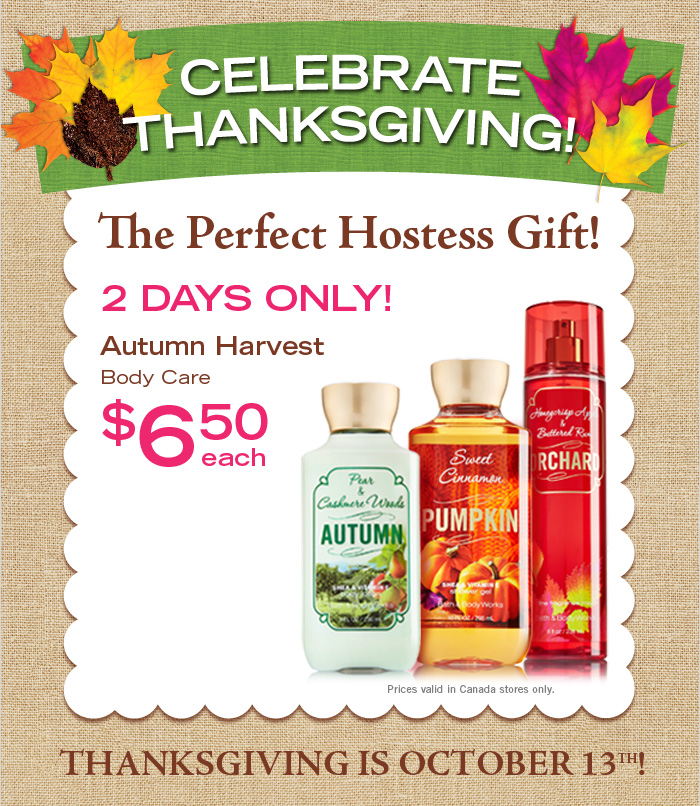 Thanksgiving is coming up on October 13th, 2014! Bath & Body Works Canada has lots of new offers to celebrate the occasion!
Celebrate Thanksgiving with the Perfect Hostess Gift from Bath & Body Works Canada! You can currently purchase the Autumn Harvest Body Care items for only $6.50 each. This offer is valid today and tomorrow only, in Canada stores only.
You can also purchase select 3 Wick Candles for only $10 with any $25 purchase – these are also excellent Hostess and Christmas gifts! You can choose from Intrigue and Opulence as well as the Thanksgiving Collections.
Also, all new Hand Soaps have excellent prices! You can get 7 for $28 or if you need less quantity then you can purchase only 4 for $18. Then  you will be able to embrace the beauty of extravagant accents and fragrances at every sink in your home. Your friends will leave wondering: "How does their home always smell so good?".
Click here to check out the Bath and Body Works Canada Thanksgiving promotions!