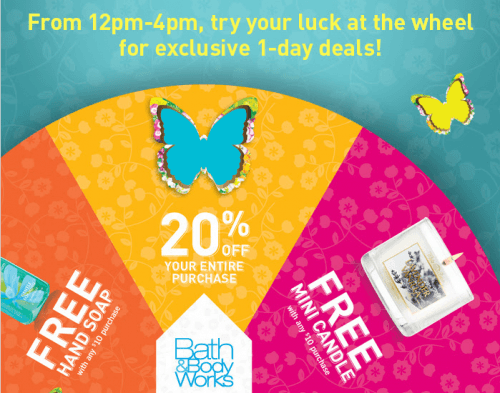 Bath & Body Works is changing things up this weekend, instead of a coupon for one of these offers, they will have a spin wheel in-store.  Visit a Bath & Body Works store between noon and 4 p.m. for a chance to spin and win.
You need to spend $10 minimum for the freebies with purchase, not that it is difficult to spend $10 in Bath & Body Works with these great offers:
Signature Body Care Buy 3 Get 3 FREE
Hand soaps 7/$28 or 4/$18
Candles: Mason Jars 2/$18 and 3-wick 2/$34
Aromatherapy, True Blue Spa & C.O. Bigelow Buy 2 Get 1 FREE
Plus if you buy the new Forever Eau de Parfum, you will get a free matching shower gel and body lotion.