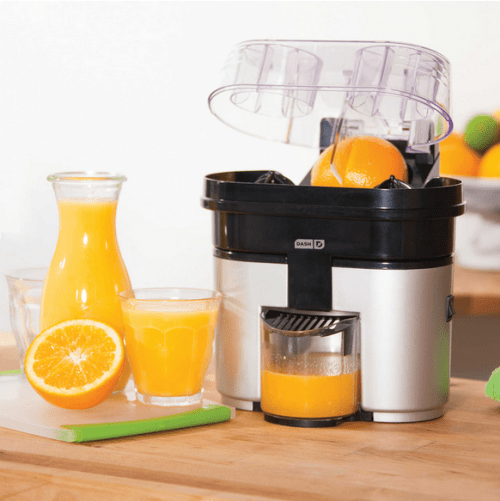 If you love enjoying freshly squeezed orange juice, you'll want to check out this great clearance deal from Bed Bath & Beyond Canada! Head over to Bed Bath & Beyond now and you could save 58% off your purchase of a Dash Citrus Bar. Originally sold for $59.99, you can purchase it now for $24.99! This juicer is being sold at The Home Depot for $49.99 and an Amazon for $82.55, so this is a great deal! This juicer allows you to enjoy freshly-squeezed juice without additives or hassle. It has a 90 watt motor, built-in slicer, and reamer cups for catching and filtering pits. it's perfect for squeezing a glass or two of juice at a time. Reviews say the juicer is easy to use and clean and works well. The only negative is that you cannot squeeze large oranges or grapefruit in this juice bar.
This deal is on for a limited time only, or while supplies last. Bed Bath & Beyond will charge $5.99 to have this item shipped to your home.
Click here to purchase the Dash Citrus Bar from Bed Bath & Beyond Canada.