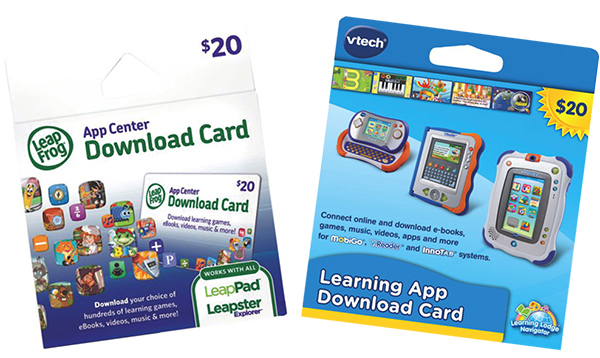 If your little one has a VTech system, LeapPad or Leapster Explorer, check out this Best Buy deals to get new downloads for less.  You can currently pick up download cards for these systems for less than half price at Best Buy.
The vTech download card is the better deal of the two.  Get a $20 Learning App download card for just $6.99.  This card is valid for downloads on vReader, MoboGo and InnoTab systems for ebooks, games, music, apps and more.  It is currently available online and in-store.
While more expensive, the $20 LeapFrog App Centre download card for $8.95 is still an amazing deal. To use this card, simply log into LeapFrog connect, enter the unique code on the card and download up to $20 of apps from the LeapFrog Connect App Center. The downloads available work with the LeapPad1, LeapPad2, Leapster Explorer and LeapsterGS game systems. Choose from a wide array of games, videos, eBooks, and more.
The LeapFrog offer is sold out online, but since the price is valid until March 10th, may come back in-stock at some point so keep checking.  You can also check for local store stock here.  The French version of this card is available online but does not specify if it can be used on French software only.
Best Buy also has some great sales on games for both systems, check out the selection here.