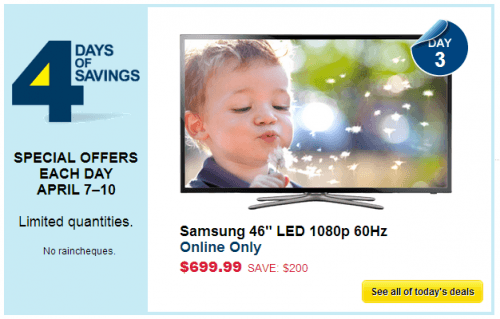 Today is Day 3 of Best Buy Canada's 4 Days of Savings. They will have special offers each day from Monday, April 7th through to Thursday, April 10th, 2014. Remember that quantities are limited and no raincheques will be allowed.
Today, Wednesday, April 9, 2014 at Best Buy Canada online only, you can purchase the Samsung 46″ LED 1080p 60Hz Television for only $699.99. That is savings of $200. This is a quality brand for a really good price. I have not had any issues with my Samsung TV or electronics.
You can still go back and purchase the XBOX One Bundle for $499.99 from Day 2 of these deals, but the day 2 Tablet offer is sold out.
You will also receive FREE Standard Shipping from BestBuy.ca, which makes this an even better offer.
Click here to check out today's Best Buy Canada online deal!