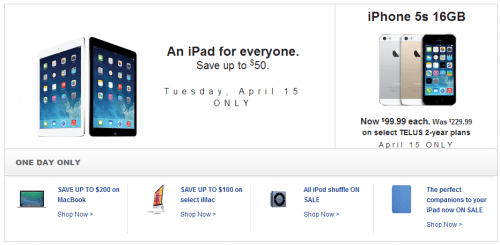 Best Buy Canada has a sale that has all Apple Products, iPads and iPods on sale today only! There is an iPad for everyone and you can save up to $50 on iPads today Tuesday, April 15th, 2014 only.
Save up to $50 Off iPads from Best Buy Canada:
Apple iPad Mini 16GB With Wifi – $289.99
Apple iPad Air 128GB Wifi 3G/4G – $899.99
and more
Save up to $200 off Macbooks from Best Buy Canada:
Apple MacBook Pro 13.3″ Intel Core i5 2.6 GHz Laptop $1749.99
Apple MacBook Pro 15.4″ Intel Core i7 2.0 GHz Laptop $1899.99
Save up to $100 on Select iMac from Best Buy Canada:
Apple iMac 27″ 4th Gen Intel Core i5 Computer English or French $1949.99
All iPod Shuffles on Sale at Best Buy Canada:
Apple iPod Shuffle 5th Generation 2GB in any colour $44.99
You will also enjoy FREE Standard Shipping on all orders over $20. If you are in the market for any Apple product, now is the perfect time. These items rarely go on sale and even though some of them are only discounted by $10, it is still better than nothing!
Click here to shop all of the Apple products on sale at Best Buy Canada today only.