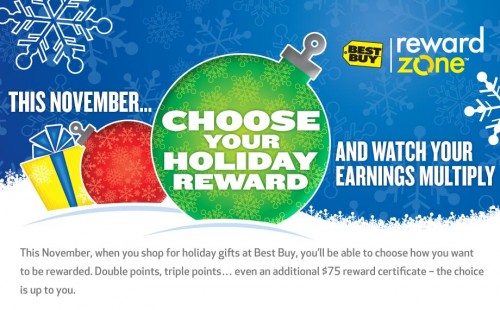 This November choose Your Holiday Reward and watch your earnings multiply.
When you shop for holiday gifts at Best Buy, you'll be able to choose how you want to be rewarded. Double points, triple points…even a $75 reward certificate – the choice is up to you.
All you have to do is log in to your Reward Zone account and select one of the five reward options. Once you have made your choice, the offer selected will be available to you each time you shop at Best Buy from November 4 to 28, 2010.
Choose one of the following five options:
Earn an additional $20 Reward Certificate with every purchase of $500 and over at Best Buy
Earn 2x points on purchases made between 10 AM and 12 PM (Monday to Friday)
Earn 3x points on all Dynex, Rocketfish, Insignia, Init and Geek Squad products
Earn an additional 2,000 Reward Zone bonus points (worth $25) with any Geek Squad service
Earn a $75 reward certificate on every Reward Zone Visa and Best Buy Card purchase of $500 or more made at Best Buy
Why put off your holiday shopping until December? This month you can pick up the gifts you're proud to give and earn big with Reward Zone's Choose Your Holiday Reward Offer!