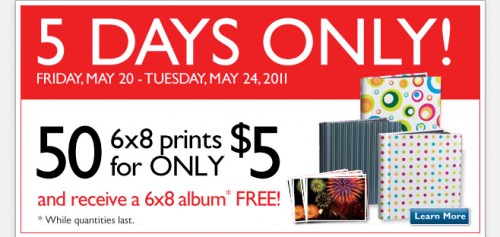 For the next 5 days you can get 50 6×8 prints for only $5 when you go to Black's Photography.  And to top off an already great deal, they are also going to give you a FREE album to put them in.  This is a great time to print all those photos that you have on your computer that you haven't done up yet, you know which ones I mean.  The online price still says 0.39 per print but this sale is advertised on the website so they are probably just going to adjust at the til when you pick up your order.  This sale is going on until Tuesday May 24.
Click here to go to Black's online.
Thanks to freebieChick for posting this deal.