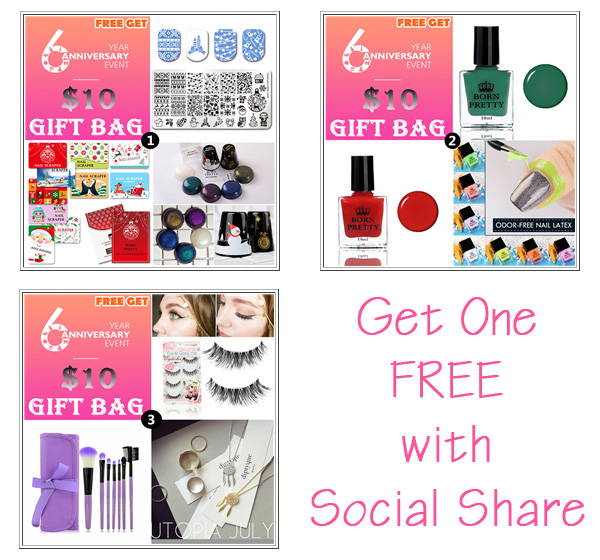 The Born Pretty store always has cheap beauty items if you are willing to wait the 4-6 weeks they usually take to ship with their free shipping option but today, you can get one of their anniversary gift bags with 3 items for free if you share on social media.
Head over to this page and choose one of the two bigger ads towards the bottom of the page.  Share it on social media with a link to Born Pretty then head back to the page and submit your link using the button at the bottom of the page.
You will be sent a code that is valid only on the anniversary gift grab bags which you can see here.  Choose between
Nail Stamping: Christmas design nail stamping plate, galaxy stamper and mini scraper (choose option 1 in drop down menu)
Nail Polish: 10ml nail polishes in red and dark green plus a random colour of latex barrier to protect your cuticles during nail art (choose option 2 in drop down menu)
Beauty: 5 pairs of false eyelashes, makeup brush kit and dreamcatcher necklace – sent randomly in silver or gold (choose option 3 in drop down menu)
This deal is available until November 5th, but while supplies last.  One per household and they do cancel orders if you try to do multiple deals per address even with separate emails/social media accounts.  Your code will be emailed within 48 hours but I have received mine already so they are working quickly on them.