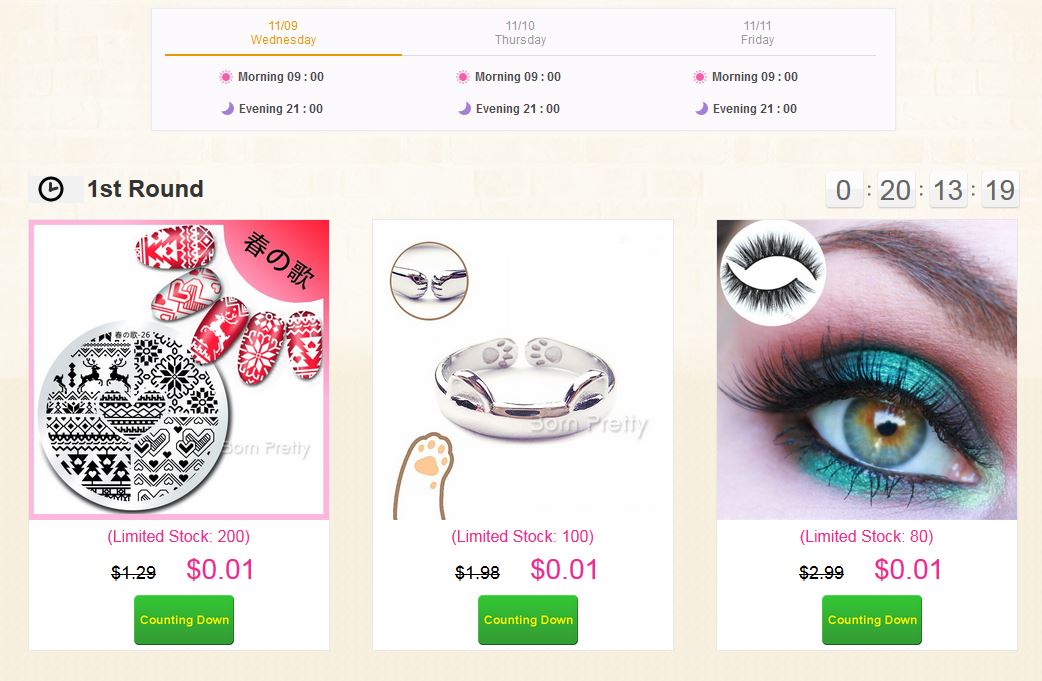 The Born Pretty store is celebrating their 6th birthday with flash sales of items for $0.01 starting tomorrow morning.  The sale starts in 20 hours, so 10am Eastern and supplies are limited so act fast to get them.
New items will be available in the evening as well as over the following two days.  You can order one of each item and a total of three $0.01 items throughout the promotion.  Shipping is free but it does take 4-6 weeks to get to Canada.  Items included in the sale are
Wednesday morning: Christmas stamping plate, cat ring and false lashes
Wednesday evening: Liquid latex cuticle protector,  crown shaped earrings or cat mirror
Thursday morning: Geometric stamping plate, elephant necklace or pencil style lipbalm
Thursday evening: Grey stamping polish, dream-catcher bracelets, makeup sponge
Friday morning: Chromed nail powder, antler ring or fan brush
Friday evening: Holo snowflake nail transfers, hand palm necklace or long lasting lipstick.
If something catches your eye that is not on sale, you can save 10% with coupon code HNEX31 at checkout.  They accept PayPal for payments and regular shipments come via Canada Post.  I have ordered from them a few times in the past and never had to pay any taxes or duties on my shipments.  They can be slow to ship during promotions though, so I would give it a week or so before following up.
Click here to get the countdown page for the 1cent items or here to shop all Born Pretty Store items.