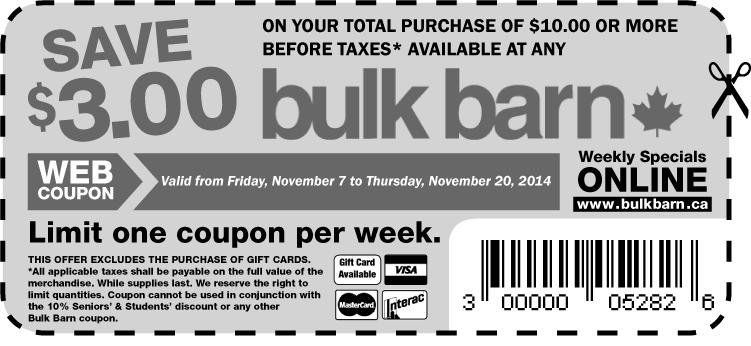 Bulk Barn Canada has posted their Weekly Web Coupon!
Print this coupon to save $3.00 off your purchase of $10.00 or more from your local Bulk Barn Canada Store! You will have to surrender the coupon to receive your discount. Limited to one per week. This offer cannot be used towards the purchase of Gift Cards. You also cannot combine this offer with the 10% seniors' and students' discount unfortunately.
This Bulk Barn Canada Coupon is valid from November 7th to November 20th 2014.
If you were planning on making cookies this Holiday season, now would be an excellent time to grab some sugar, flour or spices! Bulk Barn Canada even has excellent prices on candies to add to the tops of cookies, cupcakes or just to devour for your own plain enjoyment.
Click here to get your Bulk Barn Canada Printable Coupon!