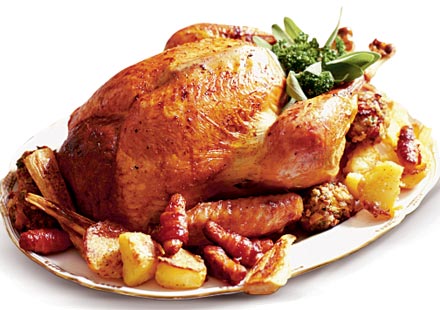 Turkeys are popping up in grocery store flyers for the holidays, but there are some differences in the types of turkey that may make paying more worthwhile.
According to the Turkey Farmers of BC:
Turkeys are graded according to quality of appearance. Canada A turkeys are well shaped, meaty with even fat covering.

Canada Utility turkeys are birds with minor skin tears or one or more parts missing which in no way affects the quality. Use these turkeys for cutting up or when carving before serving.  There is no quality or taste difference between a Canada A grade turkey or Utility grade turkey.

All turkeys processed in a federally inspected plant bear a "Canada Approved" or "Canada" health inspection stamp. This stamp tells you that the product is safe to eat.
So do check for that Canada stamp, as meat is shipped across the border.  The USDA have imposed different rulings, so US turkeys may not have the same standards based on rating.  There will be some difference in the quality and taste of meat between even Grade A turkeys depending on the age when they are slaughtered, what they are fed and how they are kept (free range vs factory etc).  Don't forget that you can shop at FreshCo and price-match a Grade A turkey for the price of the competitor's utility turkey if you live near a store.
As far as frozen vs fresh, for me it is always fresh because they take so long to thaw, but they say there is no difference in quality once thawed.
Frozen turkeys are flash-frozen immediately after they are packaged to 0 degrees F or less, and are kept frozen until they are purchased. Once thawed, the meat of a frozen turkey is virtually as fresh as the day it was packaged.

Fresh turkeys are chilled after packaging, rather than frozen. Because they require special handling and have a shorter shelf-life than frozen birds, fresh turkeys are often more expensive than their frozen counterparts.
Happy turkey hunting!