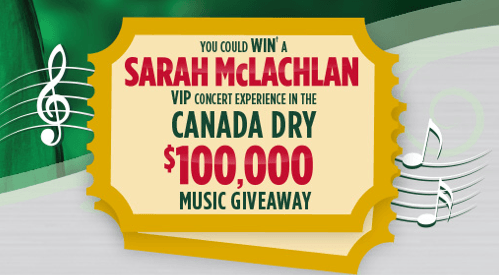 Purchase specially marked Canada Dry Gingerale products and obtain the unique PIN code for your chance to win $100,00 in prizes!
3 Grand Prizes:
3 Sarah McLachlan VIP Concert Experience Package for 2 including airfare, accomodtaions, spending money & a Sony electronics Prize Pack
8500 Instant Win Prizes:
59 Pairs of Sarah McLachlan Concert Tickets ($240.00)
50 Autographed Sarah McLachlan "The Essential Sarah McLachlan" CD ($24.00)
4,600 Sarah McLachlan "Shine On" Digital Album Download ($10.00)
350 Sarah McLachlan "Shine On" CD ($14.00)
3,361 Coupon for 1 free 2L bottle of Canada Dry ($2.99)
8 Sony Music Systems with Lightning Connector ($139.99)
9 Sony Music Systems with Bluetooth and NFC ($249.99)
8 Sony Portable Bluetooth Speaker with NFC ($199.99)
12 Sony Powerful Bluetooth Speaker with NFC ($299.99)
15 Sony Wireless Noise Cancelling Stereo Headphones ($229.99)
9 Sony Bluetooth Headphones ($129.99)
12 Sony Sound Monitoring Headphones ($79.99)
7 Sony Extra Bass XB Headphones ($59.99)
Contest closes August 31, 2014. You may enter the Contest as often as you like, as long as each entry is made with a new and unique PIN code. Limit 30 daily prizes per person.