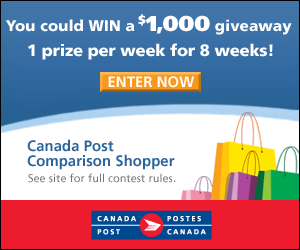 Until December 12, 2011, Canada Post Comparison Shopper is giving away 8 $1,000 Visa* gift cards—one every week for 8 weeks.  Earn extra entries by sharing the contest with friends and taking on the Daily Bonus Challenge!
Enter
* Visa Int./Citizens Bank of Canada, Licensed User.
Why use Canada Post Comparison Shopper?
Millions of Products—Find the newest products, from fashion to gadgets, in one easy to navigate website.
Get the Best Deals—Compare prices from hundreds of stores. Track pricing trends so you know exactly when to buy.
Stay Informed—Know before you buy. See detailed store policies, expose hidden fees, read user reviews and much more.
Shop Cross-Border—Compare Canadian prices against U.S. prices, with estimated shipping & custom fees included, so you can make better shopping decisions!