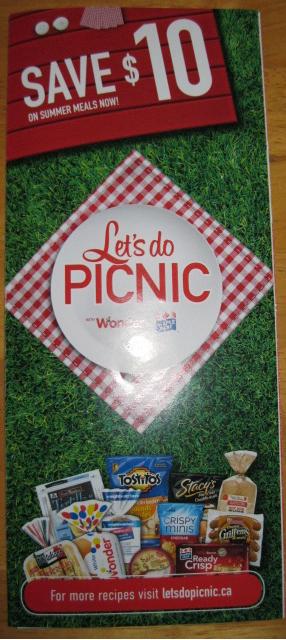 Thank you to forum member BC Gal for providing this photo and giving us the details of this fantastic summer "Let's Do Picnic" coupon booklet now circulating. You will certainly want to have a good look at the displays wherever you may be shopping, and keep an eye out for this Maple Leaf/Wonder Bread booklet containing the following coupons worth $10:
Save $3.00 when you purchase all three participating products: 1 of each D'Italiano buns, Tostitos chips (220-320g), or Tostitos salsa or spinach dip (394-423ml/432g), and Schneiders buffalo chicken grill'ems, exp Sep 13/15, upc 7540482
Save $1.00 when you buy 1 of each participating gluten-free products: PC gluten-free hamburger or hot dog buns, and Quaker crispy minis rice chips (100g) (must buy both products), exp Sep 13/15, upc 7540783
Save $2.00 when you purchase any 2: Stacy's products (190-227g) or Sabra hummus (283g), exp Sep 13/15, upc 23316081
Save $1.50 with the purchase of any 3 Maple Leaf, Maple Leaf Prime, or Schneiders products, exp Sep 13/15, upc00609340
Save $1.00 on any Casa Mendisa wraps, exp Sep 13/15, upc 7540479
Save $1.00 on any Wonder buns 8 pack, exp Sep 13/15, upc 7540480
Save 0.50¢ on any Weight Watchers thin or sandwich rolls, exp Sep 13/15, upc 7540481
The perfect combination of coupons for saving a good chunk of money on your summer parties and barbeques!
Click here to visit our Dollars and Cents Coupon Scan thread, which is frequently updated by our members with new coupons that you may spot in stores!