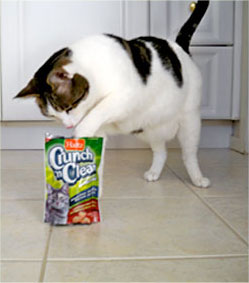 OOOHHH!!! Your cats are going to love you!
Right now you can get a $1.00 off Harz Crunch 'n Clean cat treats for your little fuzz ball.  Visit this site and print off your coupon today.
Clinically Proven to Block 3 Times More Tartar (vs. regular crunchy cat treats)
One shake of the bag and even the most independent cats come running for the taste of Crunch 'n Clean. With each treat you give, you build a stronger bond, and with every bite your cat takes, she develops healthier teeth. With the patented ingredient DentaShield®, Crunch 'n Clean blocks 3 times as much tartar formation as regular crunchy treats. Just 5 yummy Crunch 'n Clean treats twice a day won't just make her come running to you, they'll fight tartar before it's a problem.
Blocks 3x More Tartar*
With Patented Ingredient DentaShield®
Savory Chicken, Bold Beef and Rich Salmon Flavors
Complete with Essential Vitamins and Minerals, plus Taurine
Less than 2 calories per treat
Veterinarian-Recommended
At Hartz®, our family has been taking care of your family's pets since 1926. And, we know that the bond between people and their pets has never been stronger. That unconditional love goes into every one of the 1,500 pet products we bring to you, so your pet will live a healthier, happier and longer life.
Thank you petsrfun101 for the information.