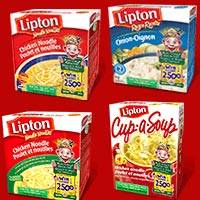 There's a $5 coupon off Cranium games in Lipton Soup Boxes:
You'll also find free in-pack activities such as Conversation Cards to encourage excitement and laughs during mealtime. Look inside specially-marked boxes of Lipton soup and find Cranium game savings: $2 off coupons (inside 2-packs and Cup-a-Soups) and $5 off coupons (inside 4-packs)!

There are 2500 Cranium games to be won, including Family Fun EditionTM, CadooTM , ZoorekaTM and HullabalooTM.