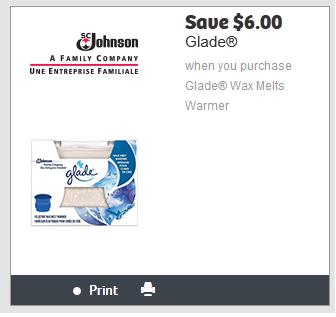 A popular coupon has returned to the SC Johnson [email protected] printable coupon portal.  Save $6 on the purchase of any Glade Wax Melts Warmer with this coupon. Toward the end of last year the warmers went on sale for $6 on more than one occasion, meaning only the tax had to be paid on the warmers! If you are lucky enough, you may even find some of the warmers left over from Christmas still on clearance for less than $6, so you may want to print this coupon and keep it with you, as you never know! You could even get overage with the coupon.
The coupons available through the [email protected] portal print through WebSaver as well, so, like the Kellogg's portal, after you select your coupons, you will be required to sign in to your WebSaver account. The limit on WebSaver printables is one print per account.
Click here to get your coupon for $6 off the purchase of a Glade Wax Melts Warmer through the SC Johnson [email protected] coupon portal.