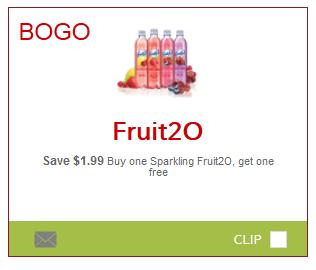 Our very own SmartCanucks SmartSource printable coupon portal has a new coupon available for you to print today. Buy one Fruit2O sparkling water beverage, and get the second one free. These beverages retail for about $1.99, so this will enable you to pick up a couple of them for about $2.
These are SmartSource coupons, so if you are new to couponing, or just to SmartSource coupons, you may not be aware that SmartSource coupons allow you to print two of each coupon per computer. The expiry dates of these coupons are usually about thirty days from the day you print the coupon. Others may be longer, but it really depends on the offer.
You may not spot the coupon on the main page when you click through the link below, so just be sure to select "Fruit2O" from the "Brand" drop down menu on your screen. You should then see the coupon appear as the top left coupon on the page.
Click here to print your buy one get one free Fruit2O coupon through the SmartCanucks SmartSource printable coupon portal.