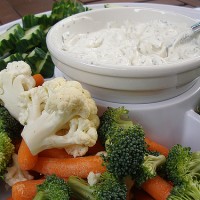 This weeks Sobeys flyer here in Atlantic Canada has Litehouse Veggie Dip on Sale for $2. There are both $0.50 and $1 coupons that can in the newspaper inserts awhile back. So if you have the $1 coupon you can get it for just $1. They are also giving you 2 Air Miles when you buy 2. My Sobeys has this dip in the middle of there veggie trays that are made in store and I find it the best ranch dip around. They usually sell around $3 so this is a great buy and I plan on stocking up. The flyer runs from April 9th to the 15th.
Click here to view the flyer near you.
Click here to go to the discussion thread.